'Predatory' Advertising by IVF Clinics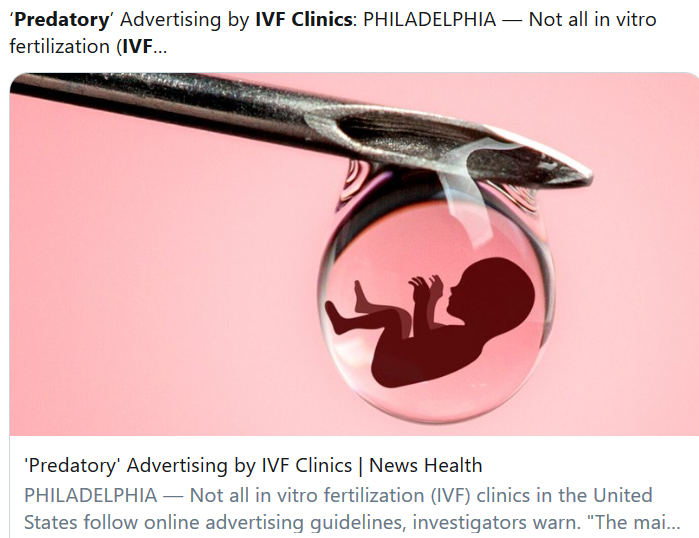 At the 2019 American Society for Reproductive Medicine Scientific Congress in Philadelphia Dr. May-Tal Sauerbrun-Cutler presented her study, "IVF clinic websites: buyer beware the system is broken.' You can download her paper here.
Buyer Beware
Medscape Medical News reported on Sauerbrun-Cutler's study of 361 IVF clinics. Excerpt below.
Not all in vitro fertilization (IVF) clinics in the United States follow online advertising guidelines, investigators warn.

"The main area of concern is in the way some websites display success rates," said lead investigator May-Tal Sauerbrun-Cutler, MD, from the Warren Alpert Medical School of Brown University in Providence, Rhode Island.

She presented the study here at the American Society for Reproductive Medicine 2019 Scientific Congress.

The Society for Assisted Reproductive Technology updated its core online advertising policy in 2018, and recommends that IVF clinics not display their success rates. The policy also has explicit rules that state that supplemental data be provided in their entirety, and that "no partial presentation" of data is allowed. Adherence to this advertising policy is required for membership in the society.
Society for Reproductive Endocrinology and Infertility vice president Eve Feinberg, MD, told Medscape, "Many women looking for information on IVF clinic websites may be swayed by some of the unethical advertising and message blog. Highlighting that this is predatory is important."
Study Is One of Several Showcasing Unethical Practices
ReproTechTruths advisor Jack Wilkinson, a medical statistician at the University of Manchester, undertook at UK study published and reported on in June 2017 that showed comparable results.  He went a step further, however, and called for an outright advertising ban if no binding standard of reporting stats is enforced.
His study showed that success rates are advertised on 67 per cent of IVF clinic websites, and many of these may be highly misleading, because clinics can cherry-pick their results from a dizzying array of options.
The University of Manchester has more information on his study here.
For more on questionable advertising and other business practices across the IVF industry please read reports and studies here.